Super Clear PDLC Film
March 10, 2020
Smart Glass maintenance
September 30, 2021
Smart Glass:
Smart Glass is a new type of special photoelectric glass product that adopts a special process to cure the liquid crystal film between the two layers of glass and is integrated into a sandwich structure after high temperature and high-pressure bonding. The dimming principle of Smart Glass is as follows: When Smart Glass is in a natural state, the polymer liquid crystal material sandwiched between the glass is disorderly arranged, so that the light cannot penetrate the glass, and the effect seen at this time is the milky white opaque state. When Smart Glass is energized, under the action of an electric field, the polymer liquid crystal material in the middle of the glass is arranged in an orderly manner so that light can pass through the glass. The effect seen at this time is a transparent and colorless glass state. These two states can be switched at will between milliseconds, both open and private, which is the biggest feature of Smart Glass. The Smart Switchable Glass system controls when the window is clear and at what level the tint will appear. The Smart Glass can be fully transparent or have a specified level of darkness – shading you from the sun while still allowing natural light into the room with the touch of a button.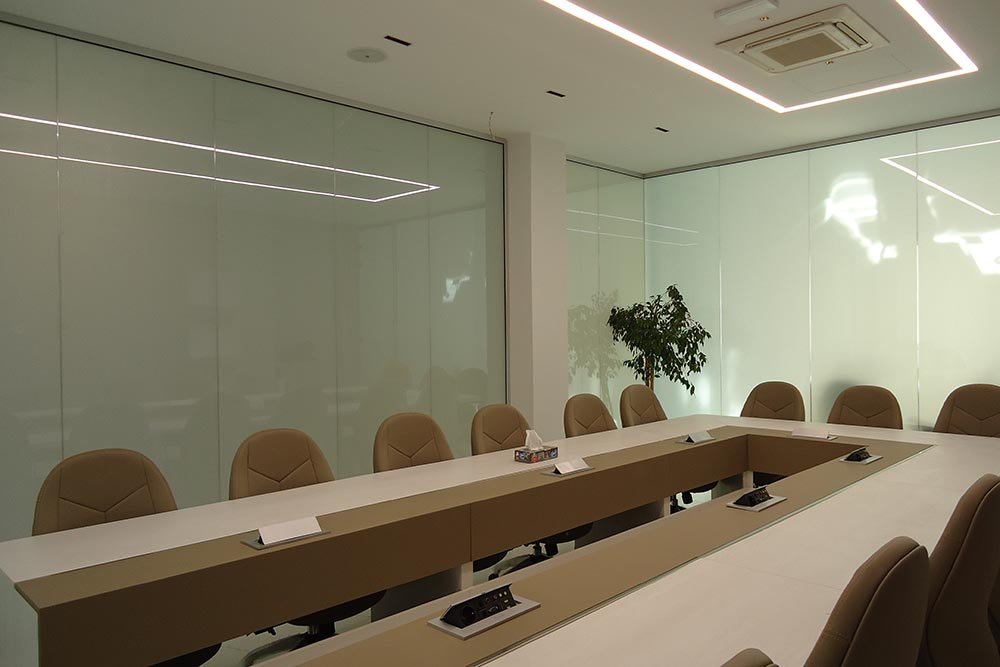 Smart Film:
The dimming film is a liquid crystal interlayer film in Smart Glass. It is a special photoelectric material and does not belong to glass. The dimming film cannot be used directly, it must be made into a dimming glass by sandwiching the two pieces of glass through a special process. Therefore, the switchable film is mainly a semi-finished product provided by the film manufacturer to the glass manufacturer. It protects home privacy with a Smart Switchable Film solution. This film blocks 99.9% of UV rays, no matter the season. Features a low-key, matte finish that prevents glare and provides privacy in any room. 
Self-adhesive Dimming Film:
In order to expand the application range of liquid crystal interlayer film, we also provide another solution. Our self-adhesive dimming film can be attached to the glass without having to replace the original glass for such an effect. After the glass surface is cleaned, the self-adhesive smart film is attached to the glass like a mobile phone screen protector, so that ordinary glass also becomes smart glass. The price of the self-adhesive film is relatively low, which of course can be accepted by more people. However, since the self-adhesive film is attached to the glass surface, the large-scale film has certain difficulties and is easily affected by the surrounding environment, so it has certain limitations in use.