Why SmartPro self-adhesive smart film?
Self-adhesive Smart film brings on demand privacy
How does Self-adhesive Smart film benefit?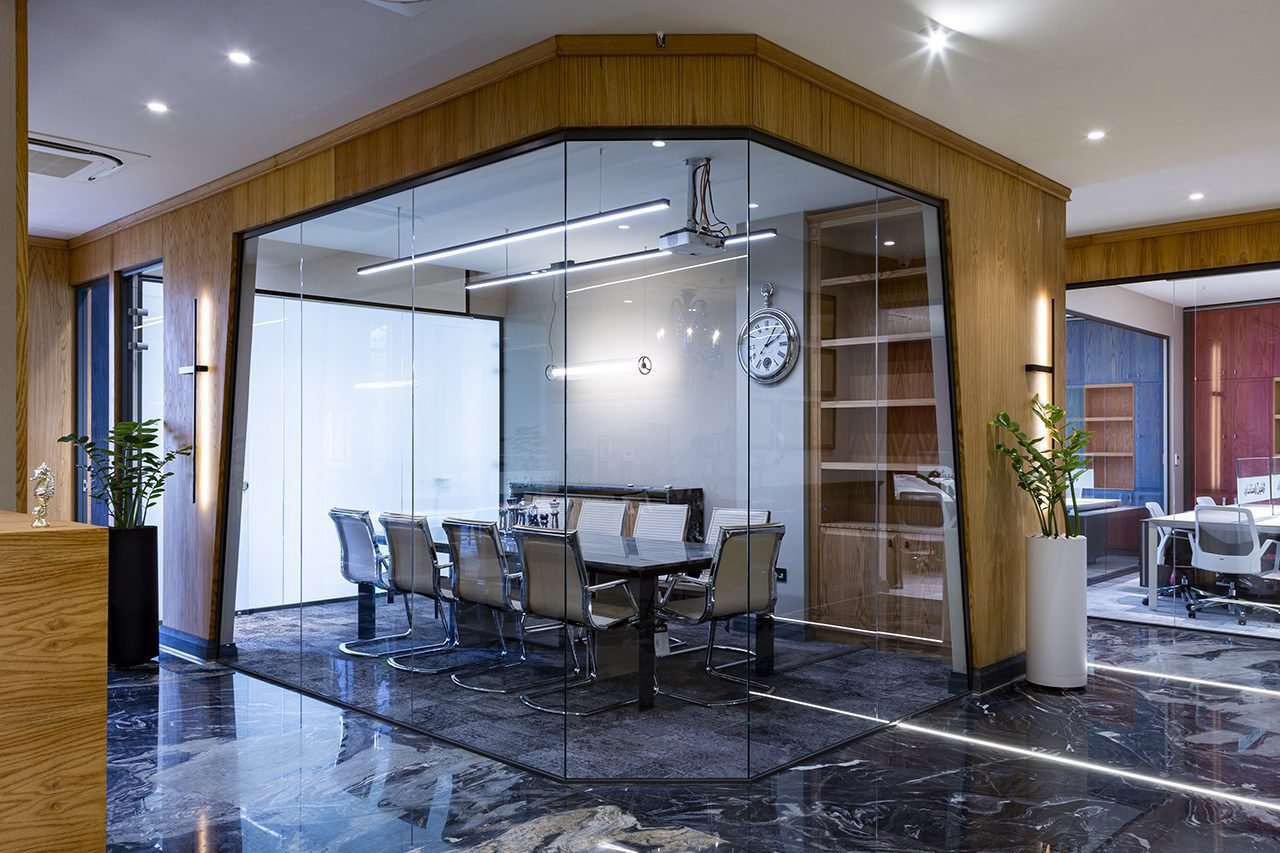 Making small offices look and feel comfortable and spacious with an open and airy atmosphere. The thickness of a standard glass partition is 1 inch while this number for interior drywall partitions is on average 5 inches. It means that by replacing a drywall partition with a glass partition, at least 4 inches per wall will be saved which is a significant number if calculated for the entire office. Now, how we can bring privacy to such glass partitions?! Self-adhesive smart film is a great choice to bring privacy on demand for modern offices.
Smart film PDLC technology allows privacy without blocking light, meaning natural and artificial light can still be utilized while privacy is maintained. By incorporating smart films on pre-installed glasses, you can enjoy the natural sunlight instead of blocking it with old-fashioned curtains and blinds. Laminated smart glass panels are also considered an eye-catching choice that can create brighter spaces and let the sun's rays penetrate deeper into the building, harnessing the healing powers of the sun for the healthcare section.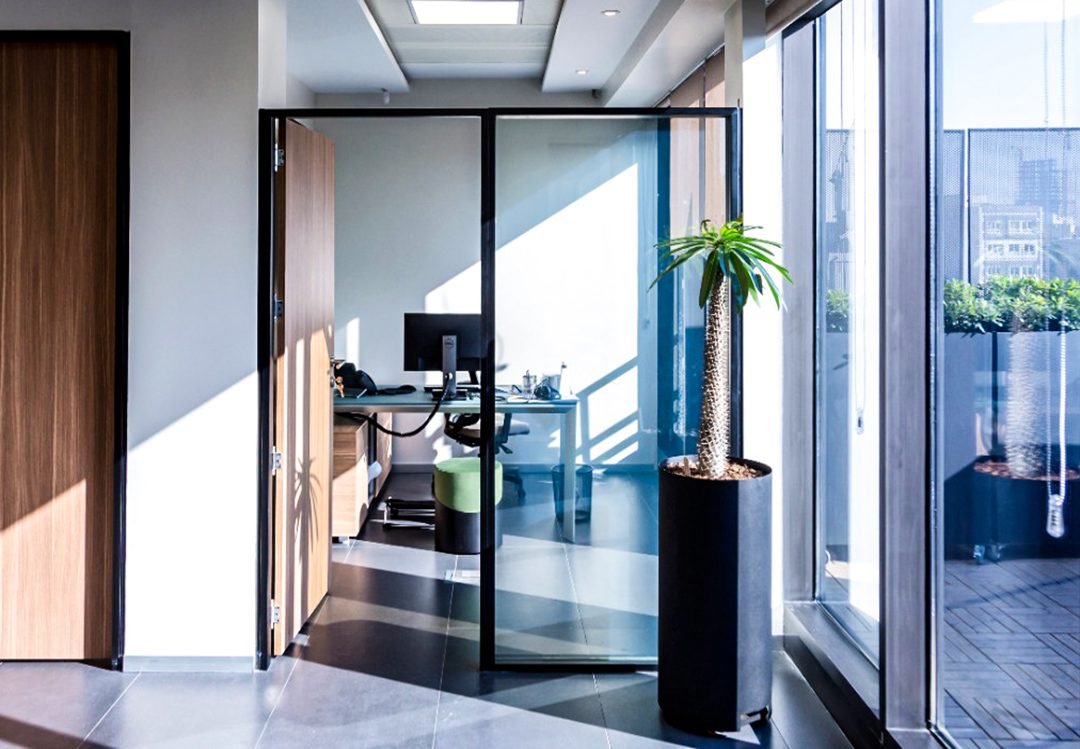 Multi-Functional Features
Smart films switch instantly from transparent to opaque to offer complete privacy. Another feature is to use the smart glass as a whiteboard. There would be no extra board required in offices with limited space. One of the superb features of switchable films is the back projection ability to provide a big multi-touch screen. SmartPro smart glass performs excellently as a rear-projection screen for videos, slideshows, or almost any projected image. It can also substitute for a whiteboard, maximizing the utility of a conference room, classroom, or consultation room.
There are two types of smart films in the market:
Non-adhesive: As there is no adhesive layer in this type of smart film, they are mainly used to manufacture laminated smart glass. 
Self-adhesive: In this product, one side of the smart film is adhesive. It means it can attach to a glass surface on itself. Despite any other DIY cling films, there is no need for water to install the self-adhesive smart film. Therefore, it is not required to change the pre-installed glass panes to enjoy bringing privacy on demand with a push of a button.
Please call our support team to check the project conditions. In most cases, it is better that our installation team arrange the process as the smart film is so delicate material and can easily get defective.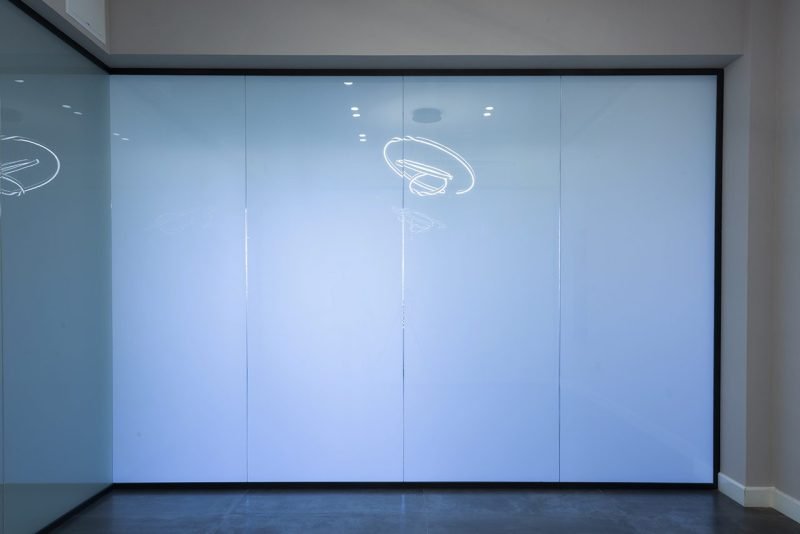 Control SmartPro Glass with one of the below options
SmartPro self-adhesive smart films can easily be connected to smart home Apps
How does Switchable PDLC Film work?
Smart Switchable Glass is the name of glasses in which the PDLC film is incorporated into the glass. This film can be attached to already installed glass or laminated to create laminated smart glass.
Polymer Dispersed Liquid Crystal (PDLC) consists of micron-sized droplets of liquid crystal dispersed in an optically isotropic polymer matrix. This smart film can be electrically switched from a light-scattering or opaque "off state" to a non-scattering or transparent "on state". In the "off state", the Smart film/Privacy film appears milky white due to the refractive index mismatch encountered by incoming light at the liquid crystal/polymer interface.
Easy to install, affordable smart glass solution
Durable smart glass for all environments
A unique product to bring an aesthetic privacy