Why SmartPro Switchable Privacy Glass?
Smart Glass brings privacy on demand for modern spaces
Why SmartPro Switchable Privacy Glass?
SmartPro glass offers high-quality smart switchable glass and smart films. This product is a type of controllable glass, which the transparency of the glass is in our hands! With the flick of a switch, the glass becomes transparent from opaque and vice versa.
This unique feature allows designers to incorporate new technologies in their design while moving toward minimal design. One of the main applications of smart films is installing on frame-less office partitions.
In this case, there is no need for curtains or frosted films without any flexibility in tint adjustment! So, with self-adhesive smart films, offices have more space and light, as sunlight can go through all the glass partitions all over the office. Today, many en-suites come with see-through glass installation designs.
While this design is eye-catching, it may be not applicable without providing a suitable solution to maintain privacy. So, another application is inside en-suites to bring privacy on demand in modern bathrooms.
Easy to install, affordable solution
Durable for all environments
A unique product to bring an aesthetic privacy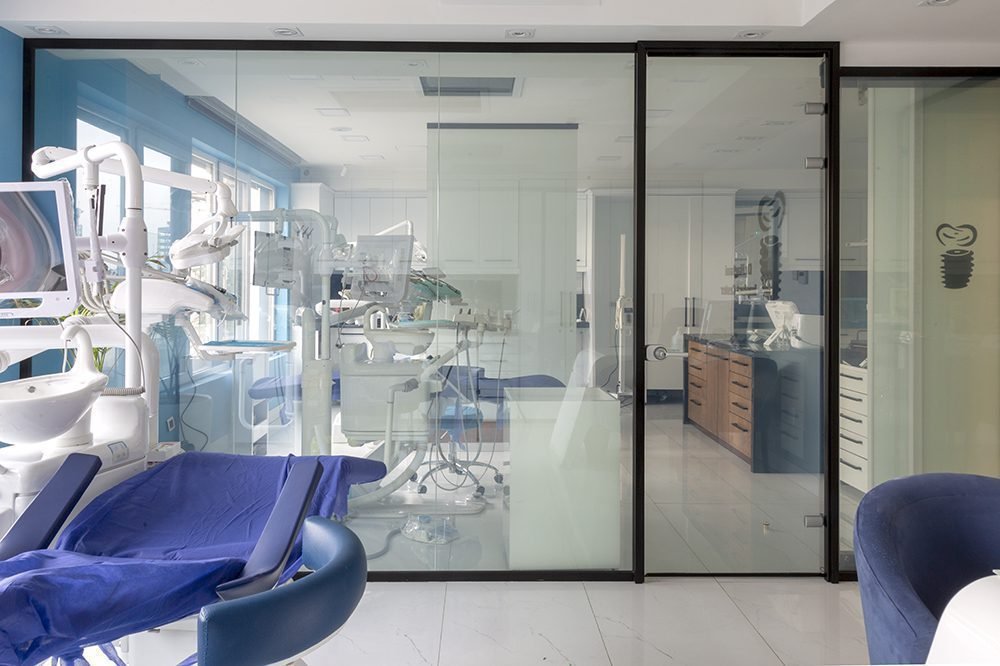 How Switchable PDLC Film works?
Smart Switchable Glass is the name of glasses in which the PDLC film is incorporated into the glass. This film can be attached to already installed glass or being laminated to create laminated glass.
Polymer Dispersed Liquid Crystal (PDLC) consists of micron-sized droplets of liquid crystal dispersed in an optically isotropic polymer matrix. This smart film can be electrically switched from a light-scattering or opaque "off state" to a non-scattering or transparent "on state". In the "off state", the Smart film/Privacy film appears milky white due to the refractive index mismatch encountered by incoming light at the liquid crystal/polymer interface.
Applications of SmartPro Glass
We offers a limited 2 years warranty for its products
Operating this product is pretty easy as you just need to press only a button to activate the function of this technology
One of the primary goals of SmartPro glass installation is to provide privacy. Switchable privacy is now possible, anywhere and everywhere, thanks to this glass, which can be installed in several places, from meeting rooms to window panes. Your privacy no longer has to come at the expense of lighting. In the case of curtains, you require to block the light from outside to ensure privacy. But with this product, you can still enjoy all the natural light while still maintaining the room's privacy.
Professional installation
We are believed to save up to around 20% of a building's energy expenses. Switchable glass, like any other technology, offers users effective solutions to a variety of difficulties, including the matter of enough privacy. Take a look at some amazing benefits of this product installation.
Professional installation
same as many other delicate products, smart glass installation is not as easy as it should be. We offer an installation service for customers who seek professional installation for their products.
1
Do I need to replace my existing glass to use your products?
No. There is no need to change the window, frame or glass in most cases.
2
What is the maximum size of PDLC film you can supply?
For self-adhesive smart film the maximum one piece size is 1500*3200mm and for laminated smart glass is 1800*3000mm.
3
What is the average lead time for SmartPro products?
Normally the lead time for the smart film is 7-10 working days depending on the required dimensions and quantities.
4
Can SmartPro films be used as projection screens?
Yes. With the use of a projector, the image is retro projected onto the surface of the glass to offer a high definition image.