Switchable Window Film: A Smart and Stylish Technology
May 31, 2022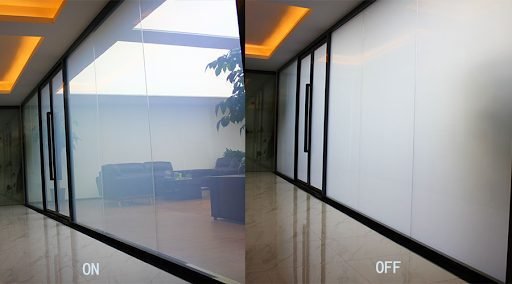 Switchable Glass
August 11, 2022
What is a PDLC film?
Switchable Smart Film is another term for PDLC smart film. PDLC is an acronym for polymer dispersed liquid crystal film. People are, nevertheless, increasingly using high-tech products as science and technology improve. They use PDLC film, especially when they want to make charming decorations for their daily lives. PDLC film is one of today's most innovative and exciting inventions.
Additionally, you can easily apply PDLC smart film to your glass windows and doors. Furthermore, it is straightforward to apply to the glasses of your home or anywhere you want. Peel and attach this film to the existing glass. The simple ON-OFF switch transforms this glass from transparent or clear to opaque (frosted).
How does PDLC smart film work?
PDLC smart film is famous as Switchable Smart Film. With this technology, you can adjust the transmission of light via the implementation of the power source AC. The molecules of liquid crystal polarise as an electric current passes through the layer of PDLC. As a result, it allows light to pass through it.

PDLC smart film is a laminated polymer film sandwiched between two layers of ITO films. The glass changes from opaque to clear when you power on the switch. And when you power off the button, the glass changes from clear to frosted or opaque.
Electric current makes the glass from opaque to transparent with just a light touch of a switch. PDLC film helps the glass protect against climate change and provides privacy and beauty. Its back-projection feature replaces the regular screen with 3D images of a high degree. This advanced technology of PDLC smart film unites materials of liquid crystal and polymers. Moreover, PDLC smart film creates a foundation for the advanced and latest generation of the display window.
Different Ways PDLC Smart Film Can Be Useful:
PDLC film helps you in many ways. Moreover, it provides you with high privacy in your home, offices, or other places you need. It secures you from sunlight's harmful rays and keeps your glass safe and secure. But it also can help you in six different ways, like:
1) Safety and Security:
PDLC Smart laminated glass utilizing laminated glass technology. When something impacts this smart glass, its premium material helps to prevent people from getting into your house easily in comparison to simple glass.
2) Switch-ability:
With the help of current switches, smart PDLC film can quickly turn from opaque to transparent.
3) Energy-saving and Eco-friendly:
The smart film can block up to 99% of % UV and up to 30% of IR. It also helps minimize heat and allows people to enjoy the beautiful sunshine. Therefore, It aids in energy consumption as well.
4) Easy to Control:
As we have already explained to you, PDLC smart film or switchable smart glass consists of several different types of control methods. Such as,
ON/OFF wall switch

Smart home app

Voice control

Remote control
5) Best alternative for Blinds and Shades:
PDLC can be utilized to create privacy in interiors instead of blinds or shades. Temperature can also be controlled with PDLC Smart Glass with IR reflection capabilities. PDLC glass is perfect for outside windows since it blocks up to 99 percent of light and creates shade.
What are some of the places where PDLC smart film can be applied?
PDLC smart film has many applications and is used in numerous places. You can use it at,
Residential place

Offices

Banks

Hotels

Clubs

Control Center at manufacturing units and many other sites where you like privacy.
Conclusion:
PDLC film is the most effective product with an instantaneous switch ability between transparent and opaque states. PDLC film is a great way to add privacy and security to your home or office. To learn more about the PDLC smart film, visit our website.