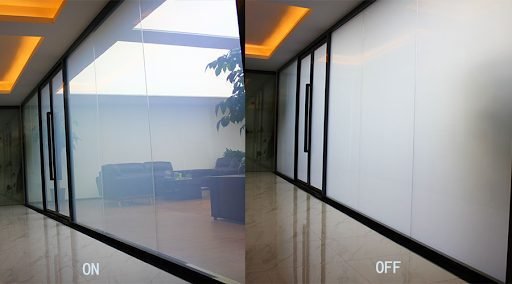 Switchable Glass
August 11, 2022
Principal Benefits of Utilizing a Smart Partition System
October 13, 2022
Why Smart Switchable Glass
Have you ever been in a situation when you wanted some privacy, but after a while, you realized that you didn't need it? What if you had access to privacy whenever you want it?
Switchable glass is a solution that may alter its level of transparency to accommodate your current state of mind as well as your requirements. 
The use of switchable smart glass in office walls makes it possible to give employees the privacy option they require while also giving the space a contemporary and stylish appearance.
It is also known as "smart glass" because it can adapt to the person's preferences by changing its state from clear to translucent, thereby partially blocking the view. It is an excellent choice for use in office partitions as dividers.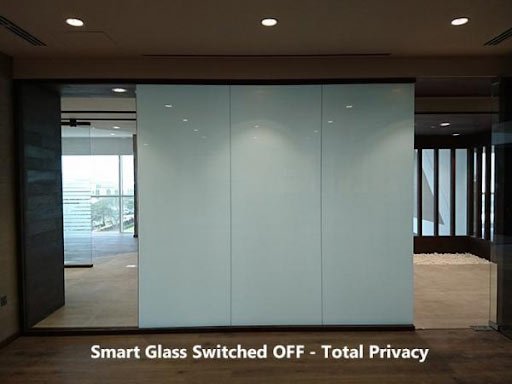 Define Switchable Glass
Smart Switchable Glass uses PDLC film inter layer technology to become transparent. According to this theory, electric voltage changes the opacity of materials. Smart glass has a milky tint that changes to crystal clear when an electric charge is passed through it.
Electricity travels through liquid crystals which are sandwiched between smart polymer layers. The smart film has liquid crystals suspended in a polymer foundation. Normal circumstances scatter liquid crystals around the polymer base, making the window opaque.
When the switch is pressed, the electric charge going through the base arranges the liquid crystals into straight lines, making the window transparent.
Why do offices require smart glass?
With Smart Switchable Glass, energy efficiency is greatly improved, which blocks both solar heat but not natural light. You'll need far less air conditioning in the summer and significantly less heating in the winter if you install smart glass. 
This glass comes in a wide range and protects against the sun's harmful ultraviolet radiation. Unlike walls, which would prevent any sunlight from entering the office, the glass may be transparent at any time, allowing UV-protected light to stream through the windows to illuminate the entire space.
Other Applications of Switchable Glass
Glass walls, partitions, shower enclosures, windows, etc.,  make extensive use of switchable glass in residential setups. They let in just the right amount of natural light to create a calm atmosphere within your home while keeping out the sun and the heat.

Smart Switchable Glasses can be used in changing rooms, projector displays, and transaction windows in retail spaces.

It can be used in various hospital settings, including intensive care units, emergency departments, operating theaters, X-ray rooms, clinics, etc. Curtains are certainly not the greatest way to ensure patients' privacy in a medical setting.
There is no limit to how switchable smart glass can be used, whether in the workplace or at home. So, head on to our experts and know what suits your requirements.